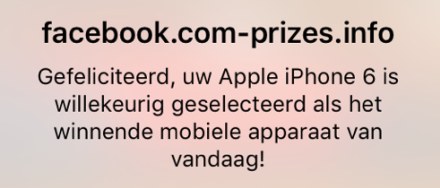 De laatste dagen komen er via diverse Nederlandse sites allerlei popups/redirects voorbij. Een Facebook-popup is de meest voorkomende.
Naar aanleiding van de spam/popups op Autoblog (motomedia) en Apparata (semilo) ben ik verder gaan zoeken, vergelijkbare situaties gebeurden namelijk ook op sites van GPupdate, Biernet en Keukenliefde. Allemaal van andere uitgevers, het gaat hier dus niet om een server hack via htaccess of iets dergelijks. En let op: het gebeurt vooral op een iPhone/safari. De blacklist die ik tot zover ben tegengekomen:
– d.billyaffcontent.com
– downland.whatsapap.com (dit is de enige die via Android voorbij komt)
– facebook.com-2342345234234.pw
– facebook.com-prizes.info
– facebook.com-us.club
– global.msmtrakk06a.com
– mobimaniac.mobi
– nl.portal.moblee.mobi
– playtowin.mobi
– selenium.local
– super-hub.jiim.info
– whatsapp.com-today.news
Dit zijn echter de eindpunten, soms worden er wel 4 tot 5 redirects gedaan voordat het stopt. Het lijkt te maken te hebben met een veiling voor ads (Google of Improve Digital?) waarbij getarget wordt op mobiele devices, wellicht zelfs specifiek via 3G/4G. Bijna alle bovenstaande sites zijn ook gericht op iPhone gebruikers en staan vol met spam.
UPDATE: hier een relevante thread op apple.com. Wellicht is één van de ads geinfecteerd met wat javascript code, maar het lijkt dat dit een probleem is bij de filtering via Improve Digital.